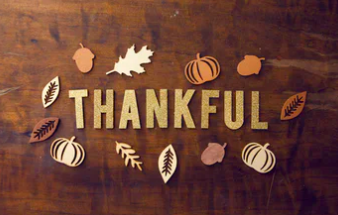 Most of us will be sitting around the table for Thanksgiving dinner (or lunch) today. Many families have a tradition of going around the table and asking each person to take a moment to share the things they are grateful for. This is a wonderful tradition; unfortunately, expressing gratitude seems to be something we're only reminded to do once a year!
When it comes to practicing gratitude, many of us fall short. It's easy to get caught up in daily tasks, challenges, and concerns. We focus primarily on our troubles and then wonder why we're feeling so tired and unhappy much of the time.
Practicing mindful gratitude — and being thankful for things all year long — will improve your physical health, your mental health, and your relationships.
Improved Physical Health
Gratitude helps improve your physical health in many ways. According to a 2013 study published by the Journal Personality and Individual Differences, grateful people experience fewer aches and pains and are more likely to take care of their physical health. Improved self-care with have a positive impact on your mood, your willpower, and your sleep.
Improved Mental Health
Regularly practicing gratitude can help you to appreciate yourself more and improve your self-esteem. By being grateful for the many blessings in your life (both big and small), you'll be less envious of the seemingly "perfect" lives of those in your social media feed. Avoiding negative thoughts helps to booster both your self-esteem and your mood. Gratitude has been found to ease depressed as you stay mindful of reasons to appreciate the positive things I your life and, thereby, reasons to be happy.
Improved Relationships
Saying "thank you" is more than just good manners. It's a way of expressing our gratitude. This attitude of gratitude can help you to improve existing relationships as well lead to new friendships. As you practice gratitude on a regular basis, you'll recognize and create stronger binds with the positive people in your life.
Finding reasons to be and to stay grateful can sometimes be challenging. Life can often test us in ways we feel we're not prepared to handle. However, with these significant benefits to practicing regular mindfulness, it's well worth the effort to make practicing mindful gratitude a priority in your life.
If you're looking for guidance and direction on how to practice mindful gratitude, I'm happy to help. Initial consultations are always free. Visit us at CaliforniaWomensTherapy.com to learn more.
Happy Thanksgiving, everyone!
I'm grateful that you've taken the time to read this post.